Check out some of our contributions to the climbing community. A treasure trove of information beyond the Nutrition for Climbers site. Enjoy!
Our YouTube channel, with topics like "Do Climbers Need Creatine?" and "BCAAs: Help or Hype?"
https://www.youtube.com/watch?v=1B5-ER70OXk&t=3s
Featured in Publications
My book Nutrition for Climbers: Fuel for the Send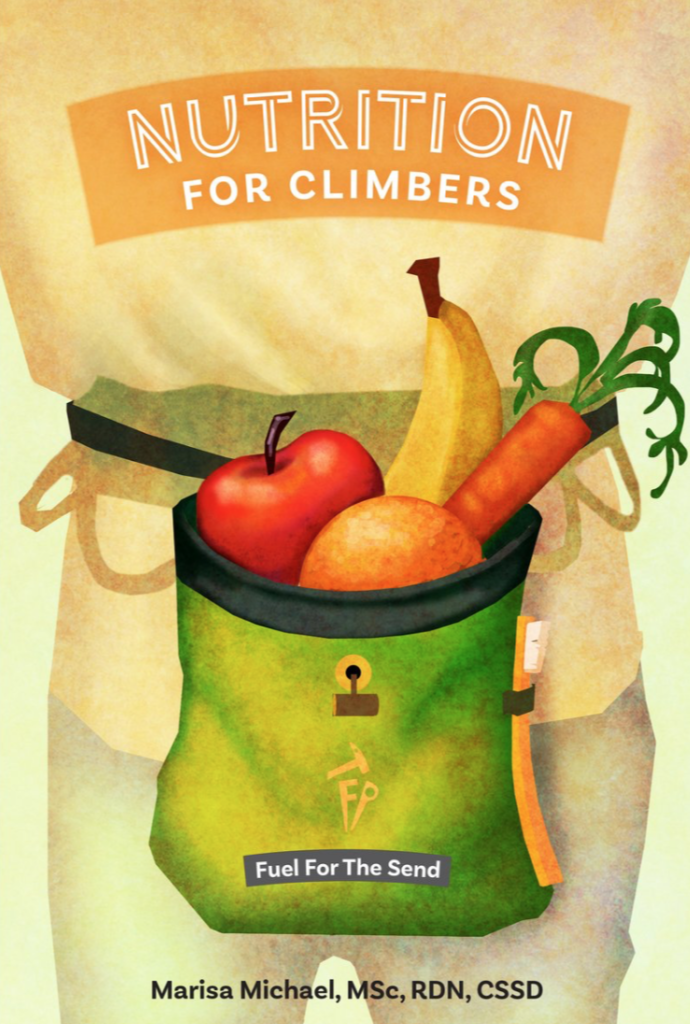 What is a Nutritionist? in Outside Magazine.
Caffeine for Climbers in Gym Climber Magazine.
Is Light Weight the Right Weight? In Gym Climber Magazine.
Relative Energy Deficiency in Sport: Unsent From Underfueling in Climbing Magazine.
The Whole30 Diet in Evening Sends.
My interview with Common Climber
Mina Leslie-Wujastyk interviewing me on the Curious Climber podcast
Three articles published in Rock and Ice about what to eat before, during, and after climbing.
Click here to see my original research in the scientific journal, Frontiers in Nutrition, about adolescent climbers' nutrition intake and risk for eating disorders.
Click here to see my review on nutrition and physiology for Olympic-format rock climbing.
What to eat for climbing competitions in Gym Climber Magazine.
What to eat for multi-day climbing competitions in Gym Climber Magazine.
Nutrition for high altitude for Backcountry Foodie.
Climbing diet and nutrition questions answered on the Epic Guidebooks blog.
Interview on climbing nutrition for the Italian blog Oliunìd.
Climbing Magazine BCAAs for climbers
Climbing Magazine Do climbers need salt?
Climbing Magazine Vegetarian/vegan climbers
Climbing Magazine How much is too much sugar for climbers?
Climbing Magazine What to eat for all-day cragging
Climbing Magazine Does meat improve climbing performance?
Climbing Magazine Nutrition for increased power
Featured in Podcasts/Presentations
Listen to me being interviewed on the TrainingBeta podcast about my research, eating disorders, and how to get help when you suspect disordered eating.
Listen to me on the TrainingBeta podcast talking with Neely Quinn about intuitive eating.
Listen to me being interviewed about climbers and eating disorders on the PHIT for a Queen podcast.
USA Climbing Women's Summit: What every climber needs to know about fueling and eating disorders
The Endurance School vodcast on climbing, triathlon, and more.
Action30 podcast on diet myths, tips for healthy eating, and more.
International Olympic Committee's Diploma in Sports Nutrition: Fueling for Olympic Competition Climbing
She Sends Collective: Climbers and Relative Energy Deficiency in Sport & Eating Disorders
Boulder Climbing Community: Top Three Tips to Fuel Right and Crush Hard
McCallum Place Eating Disorders in Sport Conference: Rock Climbing: What you need to know about the Olympic's newest sport
Club Sport Competitive Rock Climbing Teams: What to eat before, during, and after climbing
Curious Climber podcast on diet myths and intuitive eating
Mesa Rim Reno youth climbing team 2021 What to Eat to Crush Your Comp
USA Climbing Youth Climbing Festival Reno 2021, Eating disorders in climbing
USA Climbing coaches workshop: What coaches need to know about RED-S and eating disorders
International Sport and Exercise Nutrition Conference: New to the Games: Olympic Climbing
Let's keep in touch! Subscribe to our newsletter and follow us on social media.