Nutrition for Climbers (NFC) was created to provide climbers with useful, accessible nutrition information.
We provide the following to the climbing community:
Blog content
Individualized nutrition coaching (through Real Nutrition, LLC)
Writing original content for publications
Expert review on content for publications
Workshops
Training for coaches & organizations on RED-S, eating disorders, and climbing nutrition
Expert review and consultation for gyms, organizations, and teams
Schedule a one-on-one personalized nutrition coaching session!
"Marisa has been an amazing help to me in my recovery from anorexia. I am a climber and full-time route setter that had been malnourished since 2014 and my body and mind were simply breaking down. I couldn't sustain my passion for climbing, work was breaking my body down, and my life was being spent with a cloud over my head. Marisa showed me a different way to go about living. She helped me realize that proper nutrition and care for my body would help me climb stronger than ever. She has made this career of route setting sustainable for me. Most importantly, Marisa lifted that cloud that was sitting over my head for nine years." ~Nolan Piper
"Marisa is simply the best. I have worked with a few nutritionists and dieticians in the past and Marisa blew away my expectations. Her care and knowledge have been more helpful to me than I could have ever thought. Thank you!" Vincent Marciano
Workshops are a great way to reach a large audience. I've hosted engaging, fun, and informative workshops for climbing gyms, athletes, and climbing organizations. Keep your athletes healthy and safe by arming them with expert fueling information to stay strong, climb hard, and prevent eating disorders.
Some of my clients include:
International Olympic Committee
Ontario Climbing Federation
Mesa Reno Climbing Team
McCallum Place Eating Disorder in Sport Conference
Local climbing teams
She Sends Collective
USA Climbing
International Sport and Exercise Nutrition Conference
Topics include:
Training for coaches, staff, and climbers
Relative Energy Deficiency in Sport
Eating disorders: How to identify, prevent, and foster good team culture
Fueling for competition and training
Female climber fueling needs
Consultations for teams/organizations: Keep your organization or gym safe from liability by utilizing a sports dietitian to run workshops, do staff/coaching training, and/or help set up safety protocols for what to do to prevent and address eating disorders.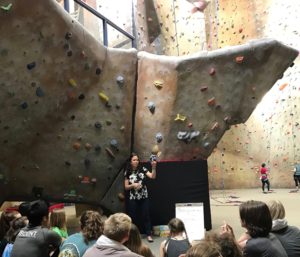 Contact Marisa to get help with individualized nutrition coaching, workshops, or content for your publication at dietitian@realnutritionrdn.com